Hey, hey, hey everyone! It's a great day here at Look! We're Learning!, because today we're joining up with iHomeschoolNetwork's Free Printable Day!
To celebrate, we're sharing great resources you can use to make your own free printable snowflake unit study! It's a perfect way to welcome winter in your homeschool!
If you like these printables, don't miss our list of fun snowman crafts for kids! They'd be a great addition to your snowflake unit.
Free Printable Snowflake Unit Study Resources
To use these resources, you'll need the following:
The resources here are targeted toward kids in grades PK-4. Here's a list of the printables!
Winter ABC & 123 Playdough Mats – This pack is nearly 40 pages long! There are individual playdough mats showing uppercase/lowercase letters and numbers 0-9 with a fun snowy scene!
Snowflake Counting Flashcards – These flashcards feature snowflakes for each number 0-9. One set shows the snowflakes and the numbers, while a second set shows only the snowflakes. Good for quizzing!
Arctic Animal Flashcards – These cards help kids learn about animals that live in the snow. Two sets of cards: One with the animal pictures and names and another with just the pictures.
Snowflake Math Factor Printables – This printable pack challenges kids to list multiplication factors for specific numbers. Each factor goes on an individual snowflake "arm". An answer key is included.
Scroll down to access all four of these printables!
All About Snowflakes Unit Study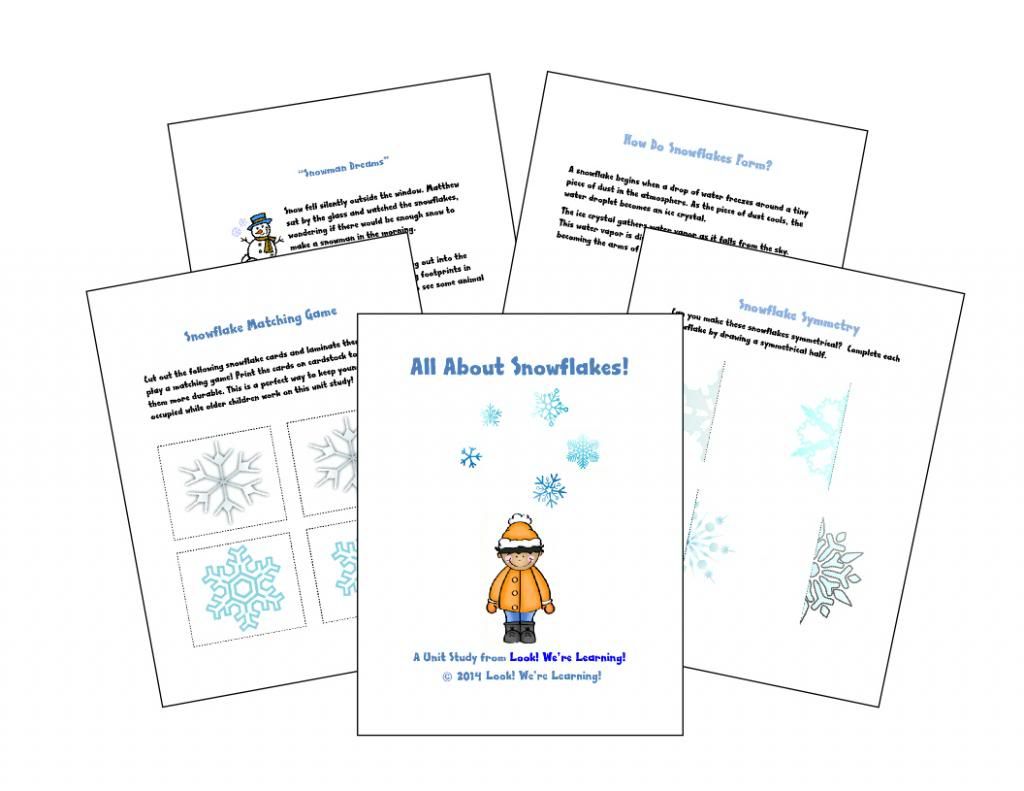 If you want to add even more learning to your snowflake unit study, grab All About Snowflakes! It's pack with 30 pages of activities appropriate for grades PK-4, including math, history, science, and grammar exercises! Some of the activities include:
A discussion of how snowflakes are formed
A biography of Wilson "Snowflake" Bentley
A Snowflake Symmetry exercise
The story "Snowman Dreams", along with a language arts review
A snow-themed word search
Our complete Snowflake Math Factors activity, with additional worksheets and directions
Plus, a snowflake matching game for younger kids!
Click the link below to learn more!
For more winter learning ideas, check out these posts!
To get each of the free printable snowflake unit study resources, click the images or links below!
Plus, see even more winter crafts and printables on my Winter Activities for Kids Pinterest board!
This post is part of the "Free Printable Day" linkup at iHomeschoolNetwork! Stop by to get a look at the fabulous free printables from our fellow bloggers!