We're starting our new school year next week! Woohoo! So it's time to take a look at our homeschool curriculum choices for the upcoming year.
We're going to have a fourth grader, a first grader, and a kindergartener this year, so I'm extra excited about what we'll learn as a family. Piglet, who will be two in December, will be along with us for a couple of months, but I think we'll start her tot school program by the end of the year.
Since we use the unit study method for most of our school lessons, we often incorporate several products into a single unit about a particular topic. As a result, my curriculum list typically includes lots of products that I expect to use during the year. But I often use a general knowledge resource as my basis and then supplement from there.
This post contains affiliate links, which help to support this site. Thank you!
Fourth Grade Homeschool Curriculum

What Your Fourth Grader Needs to Know: Core Knowledge Series – I've found the Core Knowledge series to be an excellent place to start when I'm outlining our school year. I generally try to cover every topic in the book, though I usually do so in my own way. Sometimes we read from the book and sometimes we use the book as a guide to find other resources, but the fourth grade edition has a nice list of objectives, along with some great ways to introduce them.
Easy Peasy All-in-One Homeschool: Fourth Grade – I've talked about Easy Peasy All-in-One Homeschool several times on this blog, but I cannot say enough about it. It's a completely free, comprehensive homeschooling program that makes use of educational Internet resources. I don't use the entire program, because I don't like the kids to have that much screen time everyday, but I use it to supplement our outline from the Core Knowledge book.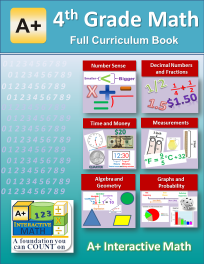 4th Grade Math Full Curriculum Book – A+ Interactive Math – We used A+ Interactive Math last year for third grade math and we'll be using the full curriculum book this year. If you'd like to try A+ Interactive Math, don't forget to save 20 percent with the exclusive coupon code LOOKWERE!
Grade 4 Modern Times – Harmony Fine Arts – We won a copy of Harmony Fine Arts Grade 4, so that will be our art program with Tigger this year. I've been a total art slacker in the past, because I don't have much experience with the arts in my own education. But I'm looking forward to introducing artists and art history to the kids. 🙂 We'll also be using the book Color Your Own Still Life Paintings
.
Lifetime Membership – Notebooking Pages.com – We actually won a Lifetime Membership to Notebooking Pages.com last year and we'll be using it as the basis for our handwriting program and some of our history studies in fourth grade. Note: If you've been eyeing a Lifetime Membership to Notebooking Pages.com, you can save $25 off the regular price through August 8th!
50 States and Where to Find Them – Kathy Jo Devore
– We got a chance to review this program recently and we loved it! It's a relaxed but thorough overview of the United States, so it's perfect for our American geography program.
The Complete Book of Maps & Geography – American Education Publishing
 – Our world geography program will be based on this book. It includes worksheets for both U.S. and global geography and discusses map reading skills, topography, and comparisons of world climates.
Sheldon's New Primary Language Lessons – Kimberly Garcia
 – Sheldon's New Primary Language Lessons is another product that we got the chance to review recently. I just loved it. We're not strict Charlotte Mason followers, but I love the use of gentle exposure to grammar through copywork, reading, and narration – and this program is a perfect fit for the Charlotte Mason method!

Science Essentials, Grades 3 – 4 – School Specialty Publishing
– This Science Essentials workbook is not as in-depth as a complete science curriculum, but at this point, I'm more interested in making sure that Tigger understands the basics of science, including the scientific method, animal classification, and human body systems. I think we'll go more in-depth with specific fields of science in fifth grade.

Stories of the Great Composers (Book & CD) – Learning Link
– We're starting our study of classical music this year! I'm not a HUGE classical music fan, but I appreciate the work of the great composers, so I'm interested to see how Tigger responds to learning about famous compositions. This book comes with a CD, so we can examine the works and then learn about the lives of the composers who wrote them. It's music and history in one!
100 Best-Loved Poems (Dover Thrift Editions)
 – As part of our reading this year, we'll be learning about classic works of poetry. I was an avid poetry reader as a kid, so I'm thrilled to get to share some of my favorite poets with the kids, including William Blake, Shakespeare, and Robert Frost. 🙂

Comprehensive Curriculum of Basic Skills, Grade 4 – American Education Publishing
– We generally save worksheets for our daily workbox time (which we'll be covering in a future post). I'll be using the Comprehensive Curriculum of Basic Skills to get worksheets that reinforce important concepts this year, including multiplication, division, geometry, and basic grammar.
To help Tigger get ready for year-end testing, we'll be using Test Practice, Grade 4 (Spectrum Test Practice)
and Spectrum: Test Prep, Grade 4.
Family Time Fitness Core 1 – We used Family Time Fitness last year and we'll be using it again in fourth grade. Tigger has trouble with balance and coordination and Roo has trouble with his vestibular skills (both symptoms are often seen in kids with sensory processing disorder). I'm looking forward to helping them strengthen their gross motor skills through regular P.E. 
1st Grade Homeschool Curriculum

What Your First Grader Needs to Know: Core Knowledge Series
– What Your First Grader Needs to Know will be the basis of our lessons with Pooh. As with Tigger, the objectives in the book are the foundation of our schooling, but we'll be adjusting our approach as we go.
Easy Peasy All-in-One Homeschool: First Grade – Easy Peasy for first grade covers all of the basic subjects but with lots of computer games and printable activities. Pooh has already begun reading "The Tale of Jolly Robin" on the site and he's enjoying his very first chapter book!

Life of Fred–Butterflies
 – I am so excited to be using Life of Fred math with our boys! I first heard of the program last year when I came across Life of Fred Calculus at the library. When I heard there was an elementary program, I knew I'd want to use it this year. Look for future posts about our experience with the program!

MindWare Analogy Challenges: Beginner Level
– Okay, I'm totally admitting that I'm an English nerd here, but I love analogies! They're so fun! We're introducing Pooh to them this year with the picture analogies in the book Analogy Challenges. I'm hoping he loves them as much as I do!

Let's Play Science – Mary Stetten Carson
– Both boys love any kind of scientific activity, but they don't care for much book work, which is understandable. So we're taking a playful approach to science with Let's Play Science! The book is full of simple science activities that don't require much planning and are easy for kids to understand.
Southern Hodgepodge: Sharks Chalk Pastel Art for All Ages – As part of our effort to engage in more artistic activities this year, we'll be using the book Sharks Chalk Pastel Art for All Ages from Southern Hodgepodge! Our boys love sharks (like most boys do), so I think they'll love this! Note: You can save $2 off the regular price of the book through August 9th! Look for our review coming later this week! 😉
"Pack Your Bags" – Enchanted Homeschooling Mom – This monthly lapbook series is part of the E.H.M. Members' Only program and features a different lapbook each month for a new country. 16 lapbooks are already available, including packs for the U.S., Mexico, Greece, Australia, and India. We'll be using this as our geography spine with Pooh, but I think Roo will probably tag along. 🙂 Note: During the month of August, you can save $5 on a lifetime membership to E.H.M. Members' Only! Get a lifetime of access to all E.H.M. printables for just $10!
Kindergarten Homeschool Curriculum

What Your Kindergartner Needs to Know: Core Knowledge Series
– As with Tigger and Pooh, we're using the Core Knowledge Series as our kindergarten spine this year. It's a very relaxed curriculum, which I like. Kindergarten is a little young for lots of structure, at least in my opinion. That's especially true with a very, very active boy like Roo. 🙂
Easy Peasy All-in-One Homeschool: Kindergarten (Getting Ready Level 2) – Getting Ready Level 2 equates to kindergarten on Easy Peasy. The focus is mostly phonics, sight word reading, basic addition and subtraction, and counting. Easy peasy!
Life of Fred– Apples
– We're beginning with Life of Fred: Apples with Roo. Though, all of the kids will probably listen in as we read both Apples and Butterflies. Did I mention I'm excited about Life of Fred yet?

MindWare Addition Adventures
– Reciting addition facts can be boring and Roo has a hard time sitting still, so we're going to practice our addition with Addition Adventures – a workbook that helps kids use addition facts to practice mapmaking and grid reading to solve a problem. I think we might add some actual movement to this one too to keep Roo's attention even longer!

The Little Hands Art Book – Judy Press
– To get Roo interested in art, we're using The Little Hands Art Book, which is packed with simple art activities that use paper plates, handprinting, and play dough. And if there's anything Roo loves, it's play dough. 🙂
*Whew!* That's our homeschool curriculum list for this year! What do you have planned for your kids this school year? Tell us about your homeschool curriculum choices in the comments!
This post is part of the "2014 Not Back to School Hop" from iHomeschool Network! Click on over to read about what curriculum choices our fellow bloggers are making this year!