Have you entered our 1000 Facebook Fan Giveaway?
We're still in the back to school groove around here, so we thought we'd share some of the changes we made to our homeschooling space. We still hold classes around our dining room table, but we did make a few changes to our walls to create a better ADHD homeschool room.
I love the idea of a "school-y" type room, complete with educational posters, wall charts, a flower clock, and manuscript handwriting charts around the top of the walls. (Remember those in elementary school?) However, that is NOT what's best for my kids.
We're homeschooling four children in our home – well, three kids and a toddler. 🙂 Two have ADHD and one has ADD. I've been reading some great books about teaching children with ADHD/ADD and one of the biggest no-no's is over-decorating the school space.
We used to have a big world map on the wall right in front of the table next to the chalkboard. I noticed that Tigger's eyes were always leaving the chalkboard and moving toward that map.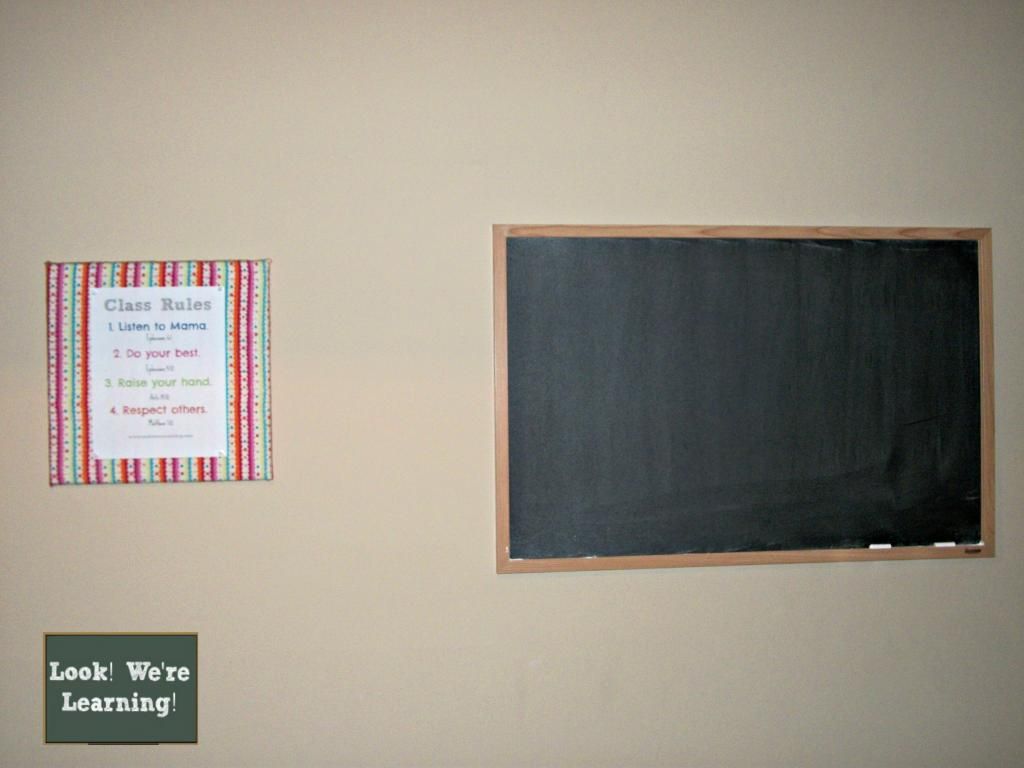 So the map now resides on the wall behind my sewing space, which is separated away from our homeschool room. Now we simply have the chalkboard and a list of class rules. (More on those in a second.)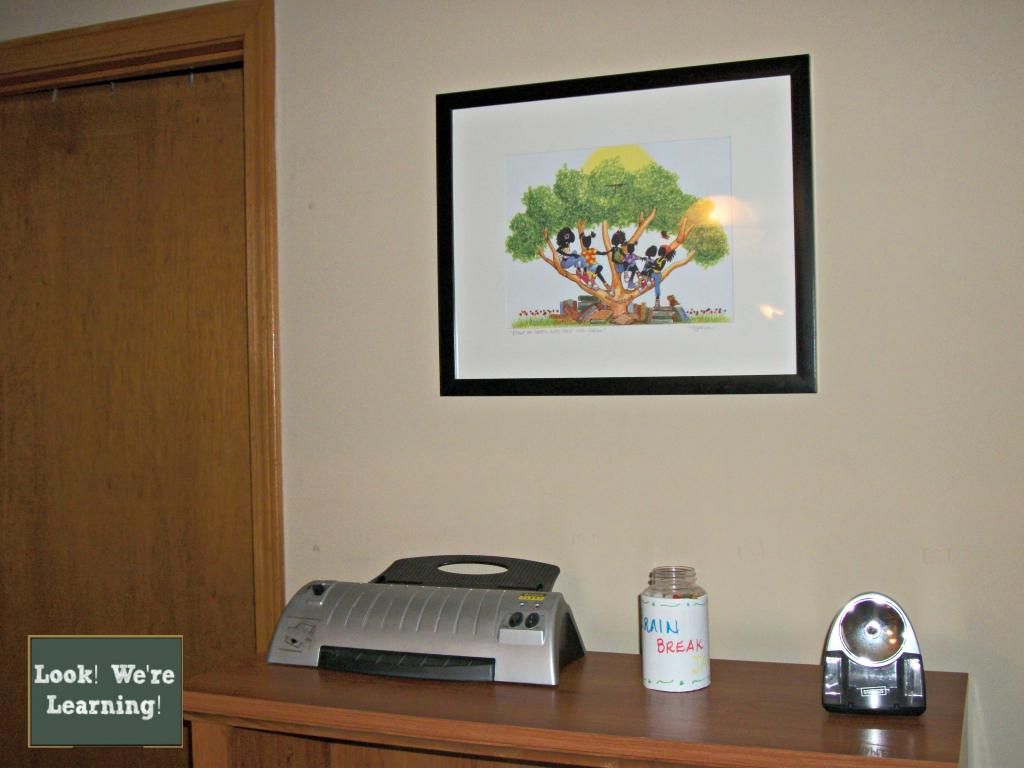 I loved our artwork from last year too much to get rid of it, so I moved it to the side where Tigger sits so that she's out of the line of sight. I also cleaned off the top of the homeschooling bookshelf to keep her vision from being too cluttered to concentrate.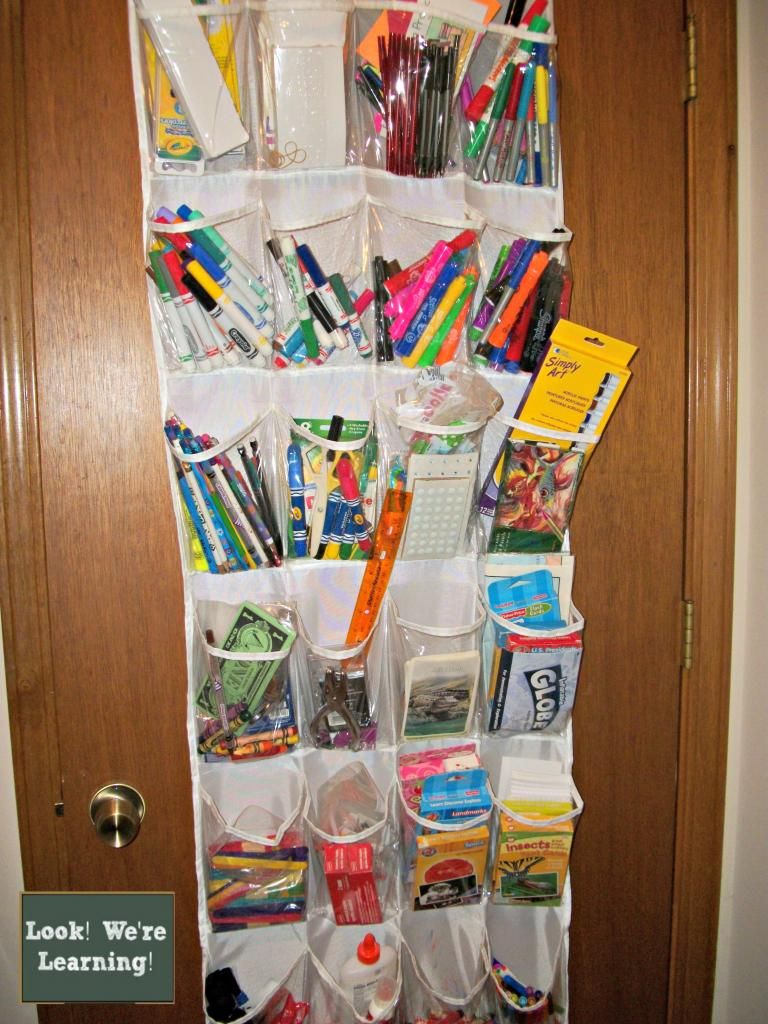 As I mentioned in our homeschool workbox organization post, we're now keeping our school supplies in our laundry room so that they're close to our schooling space. To avoid even more colorful distractions, we placed them on the back of the door instead of the front.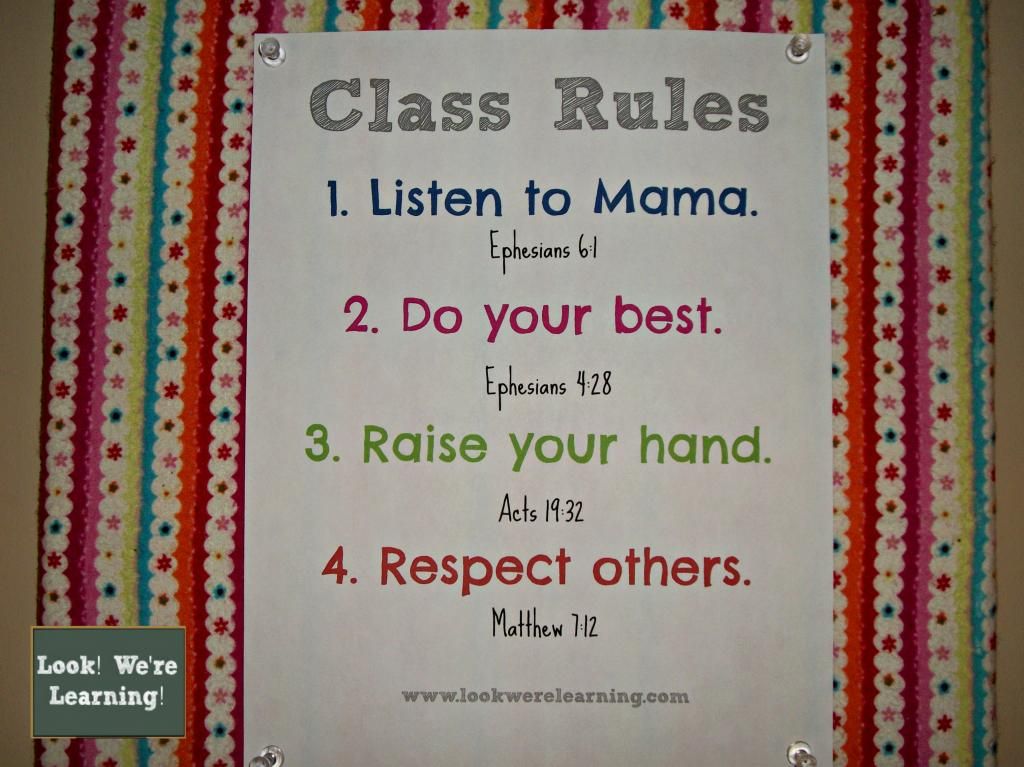 Another tip for teaching kids with ADHD/ADD that I've learned recently is to have clear and succinct rules that are posted in a visible space. We've come up with four class rules for our homeschool – each with a Scriptural principle. Each morning, we review them together before we get started. So far, it seems to be helping. 🙂
If you'd like to grab a copy of our homeschool rules, just right-click the image below to save it to your computer!
That's a look at our new/old ADHD homeschool room! It's a bit drab, but it gets the job done. 😉 Have you made any changes to your homeschool space this year? We'd love to hear about them in the comments!