Hi there! Welcome to the final day of our 10 Days of African History for Kids series! We're ending with a discussion of apartheid in South Africa.
What was Apartheid?
The word apartheid literally means "separateness" and, true to its name, apartheid was used to enforce racial segregation between blacks and whites. Interestingly, the policy didn't just apply to black Africans, but to Indians and all people of color. The prevailing view of many white Africans at the time is underscored by this property sign:
Image c/o:
QU South Africa
I had to explain to the children that this sign was informing all people of color that they would be killed for stepping foot on the property. Notice that this policy pointedly applies only to people of color, so this is not simply the work of an overly possessive property owner.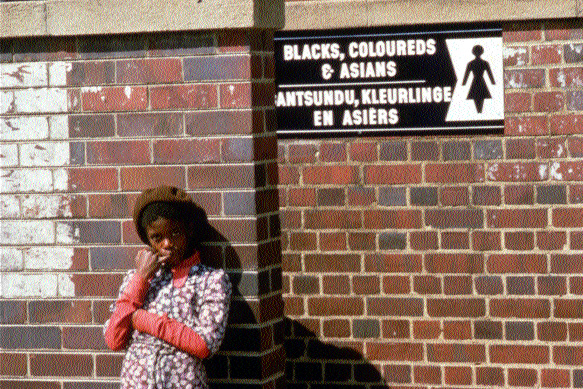 Image c/o: McDaniel.edu
We found it interesting that all people of color were grouped together under apartheid. Skin tone, country of origin, or language had no bearing on how they were viewed. On the other hand, all whites were viewed as "clean", no matter where they came from or their ethnic heritage.
Back in August, we took an in-depth look at the life of Nelson Mandela and his efforts to overturn the apartheid policy. The kids remembered much of what we talked about from that lesson and mentioned it during this discussion. Homeschooling win! We read the book S Is for South Africa (World Alphabets)
 at the end to help the children look at how South Africans live today now that apartheid has ended.

African Kingdoms Timeline
Afterward, we wanted to go back and get a historical perspective of all of the kingdoms and events we covered in our African history series. We wrote all of the topics on the board and had the kids tell us which event they thought came first.
They were surprised to learn that Kush was actually an older empire than Egypt.
Everyone took turns filling in the timeline.
We included two timeline pages: a blank one for filling in the chronological order of the events and kingdoms and a second one with all of the topics and dates added.
Grab your free download of our basic African history timeline by clicking on either of the pictures or the link below!
Basic African History Timeline
Books and Resources about South Africa and Apartheid
Time for Kids: South Africa Timeline – Interactive timeline of the development of the country of South Africa, including dates during the anti-apartheid movement
Kids Net Encyclopedia: History of South Africa – A thorough kid-friendly summary of how the country of South Africa was formed, including the original African tribes, colonization by the Dutch and the British, and the end of apartheid
McDaniel.edu: Apartheid in South Africa – Upper elementary grade lesson plan with a picture activity and a discussion prompt
Nelson Mandela: Long Walk to Freedom
African Beginnings
The Colonial Conquest of Africa
S Is for South Africa (World Alphabets)
Thank you so much for following along with our series 10 Days of African History for Kids! We hope you enjoyed reading about it as much as we enjoyed studying it!
This post is part of the 2013 Autumn Hopscotch from iHomeschool Network! Click below to read the Hopscotch posts from our fellow bloggers!