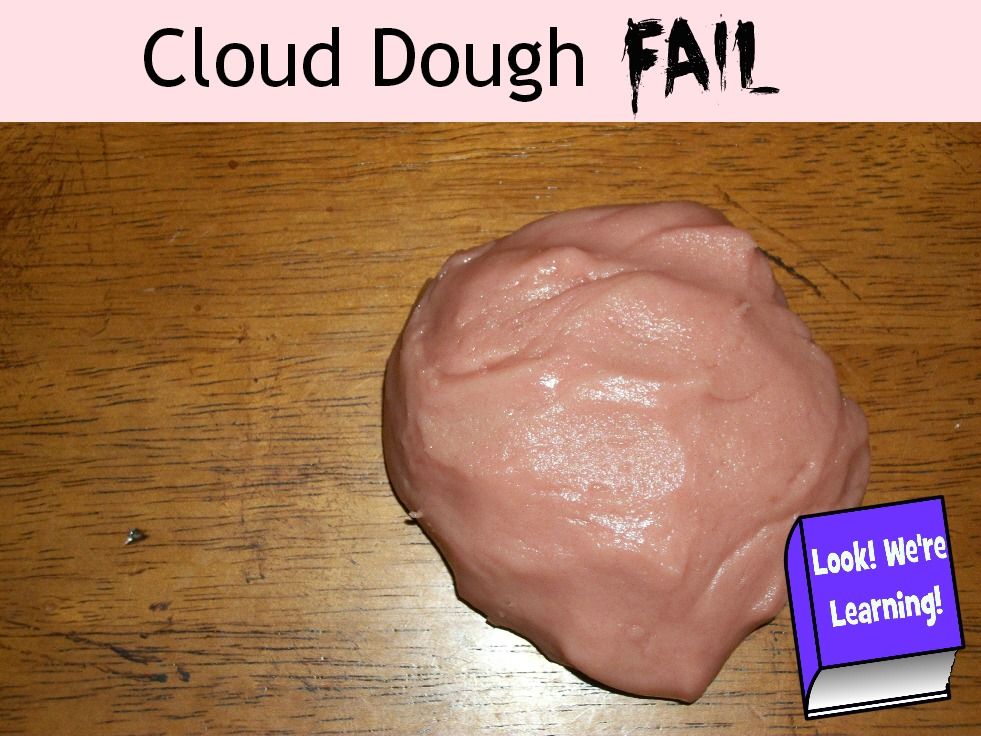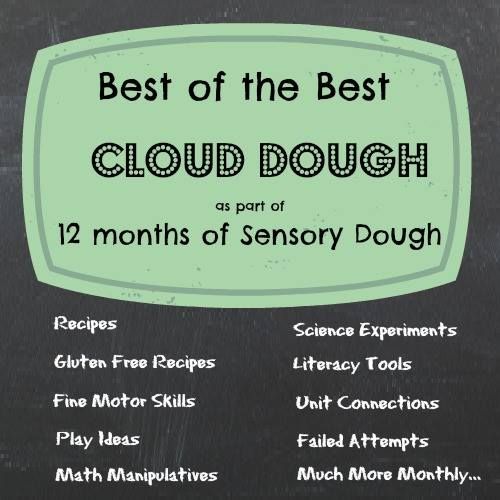 Hey everyone! It's time for our 12 Months of Sensory Dough linkup! Every month, I'm honored to co-host this linky with 11 other bloggers, including Dayna at Lemon Lime Adventures, Val & Alex at Glittering Muffins, Devany at Still Playing School, Sarah at Little Bins for Little Hands, Kimberly at Natural Beach Living, Melissa Ann at The Eyes of a Boy, Nicolette at Powerful Mothering, Amy at Wildflower Ramblings, Rachel at I Heart Crafty Things, Michelle at Delightful Learning, and Jennifer at The Life of Jennifer Dawn!
This month, we tried our hand at making cloud dough. It was a complete and utter fail…lol. So as you read our experience below, remember DO NOT DO THIS.
I got the original idea from PBS.org, where they feature a very simple recipe for cloud dough using flour and oil. I had my first college biology exam last week and I spent most of my time studying. So – I looked at the cloud dough recipe and saw two ingredients: flour and oil. I did not realize that the original recipe called for baby oil. Mistake #1.
Here's what I used: flour, vegetable oil, and red food coloring.
I started with 4 cups of flour, which is actually what the recipe called for. But instead of reading the recipe to find out the proper flour to oil ratio, I figured I could just mix it until it "looked" right. Mistake #2.
I put 1 1/3 cup of vegetable oil in it, then mixed it up. (The recipe says 1/2 cup, by the way.)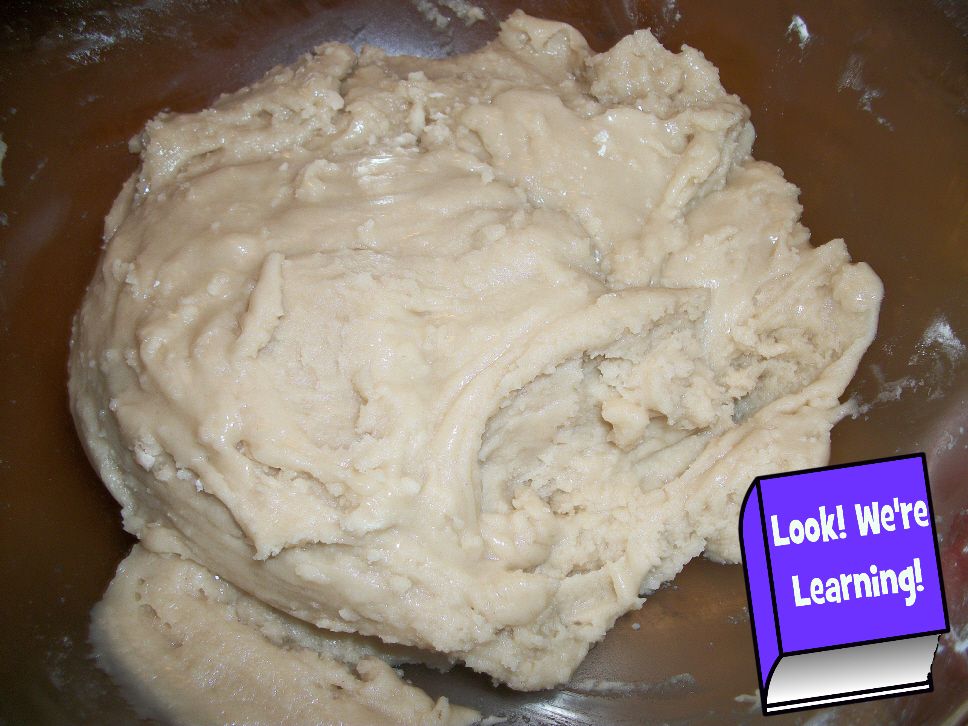 Right about here is when I started to think "This doesn't look right". But I was not about to use another four cups of flour.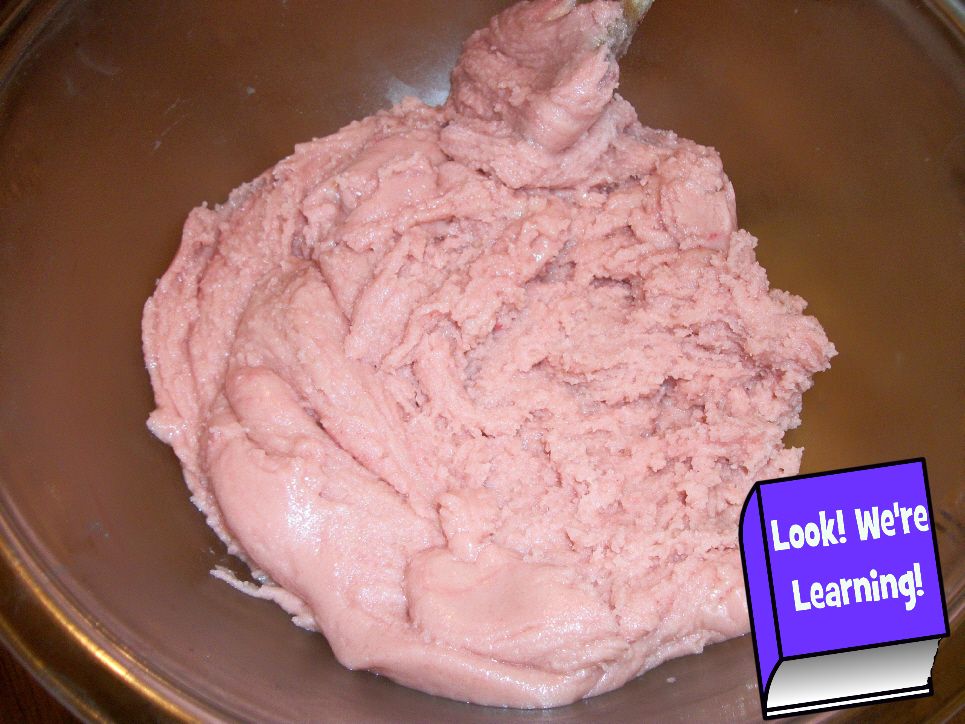 I added 20 drops of red food coloring, and the dough looked so pretty that I had a tiny bit of hope.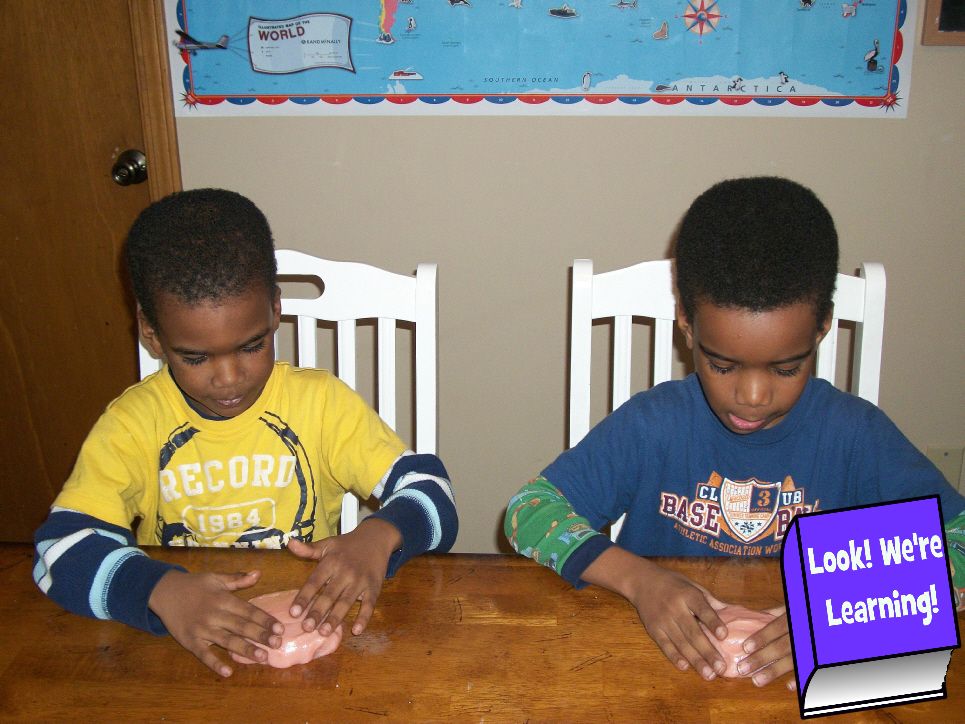 That was shattered when we actually touched it. It was slick and oily to the touch. For a while, the kids just poked it.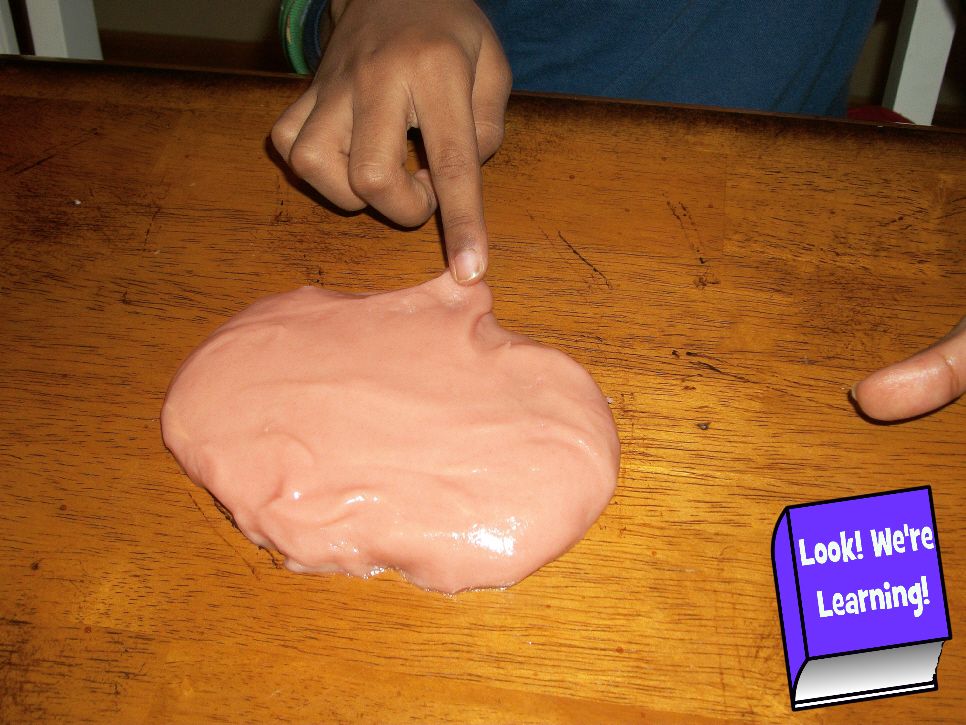 Like this.
Tigger, bless her heart, tried to make the best of it by forming a "smile".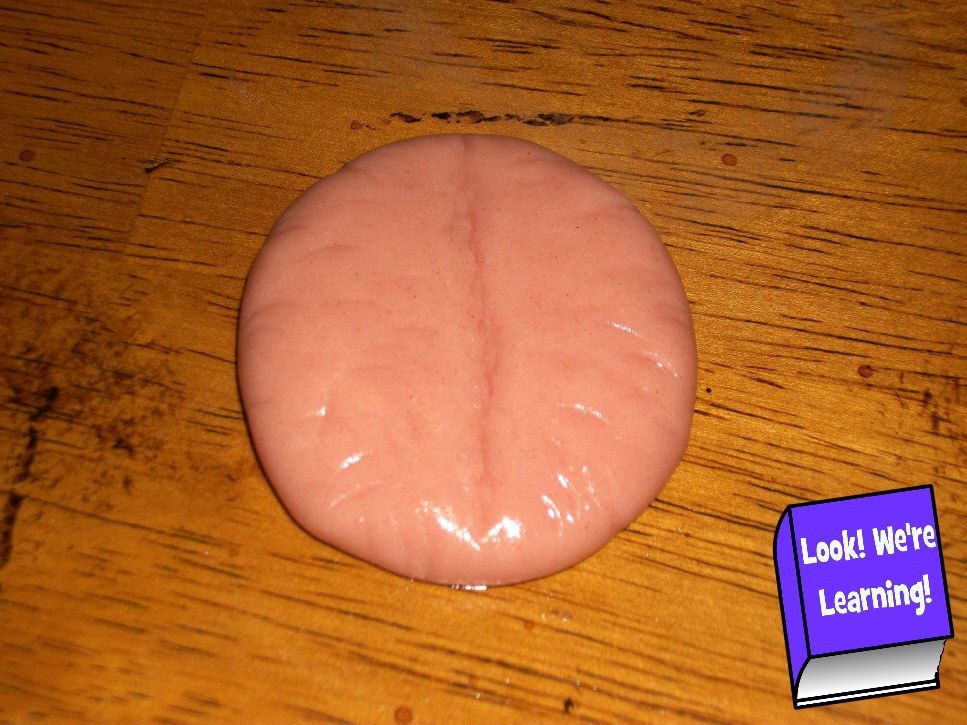 Jay's been studying the brain with the kids, so I thought I'd make a brain. By the time I got the picture, my brain had settled into more of a tongue.
Roo kept saying "Can I wash my hands please?" I mean, I know it's a sensory experiment and all, but they're not supposed to dislike how it feels on their hands.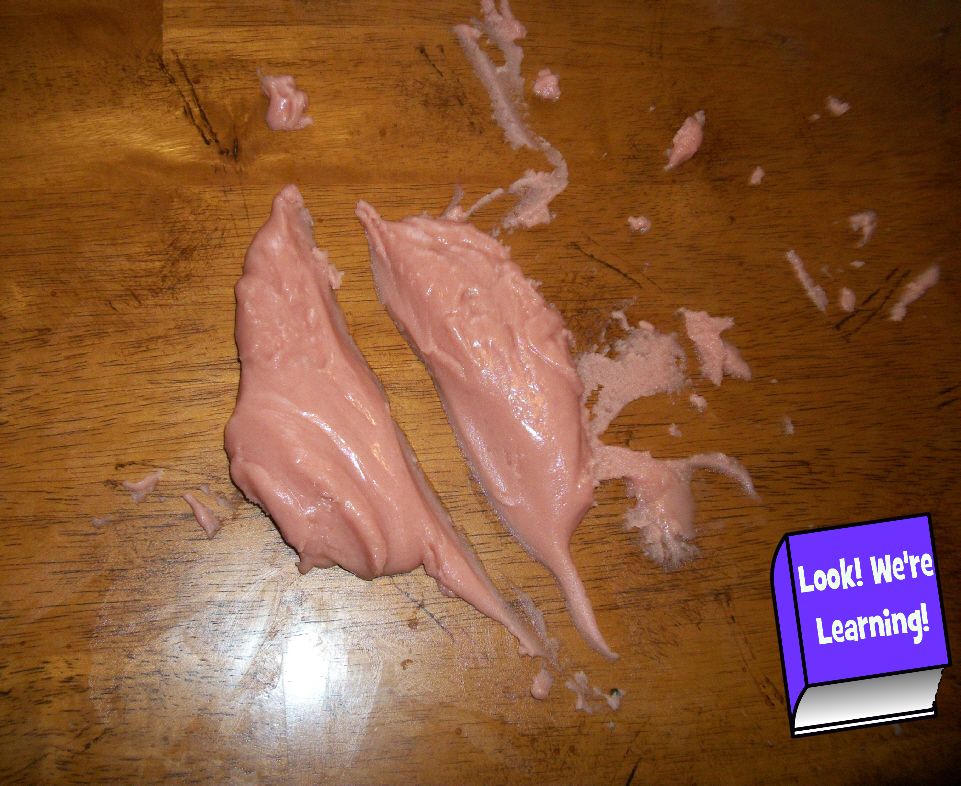 Pooh made two lungs, and that's about all we could make out of this stuff.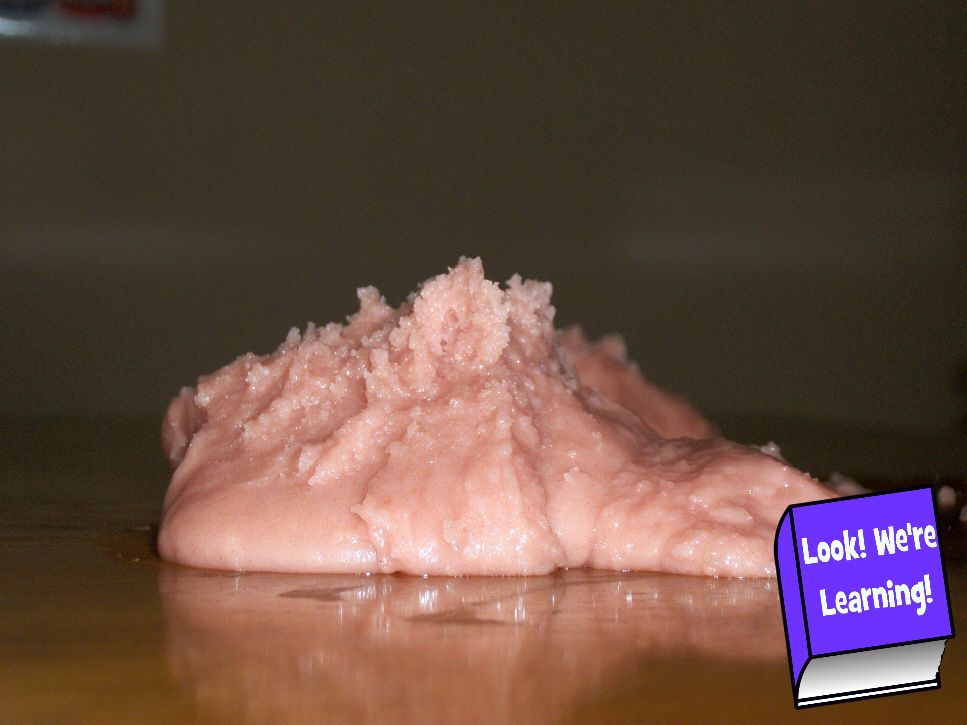 But it was neat to look at!
So if you decide to make cloud dough, don't be like me! Read the instructions and pick a time when you're not studying biology…lol.
Next month, we'll be making edible play dough!
We'd love to see your sensory dough experiments! Feel to link up your sensory dough fun below!
Please read the following guidelines before linking up.
Share family-friendly posts related to the month's theme. Feel free to link old or new posts that highlight your favorite recipes for sensory dough. Failures and unsuccessful attempts are welcome.
We ask that no posts are linked with copy/paste recipes from other sources. If you use a recipe from another source, please link back to the original recipe.
By linking up, you give permission to share your post and one photograph in future posts and through social media channels.
Visit 2-3 other posts that others have shared. Discover new ideas and meet new friends!
The linky will remain open for two weeks. On the 12th of each month, all co-hosts will post a new dough with their spin, highlighting at least one post from the month before and pin each post to the 12 Months of Sensory Dough Board.
If you would like to, please grab the 12 Months of Sensory Dough button for your blog. And be sure to stop by and visit our co-hosts to get their take on the featured dough for the month!