We've been studying African kingdoms of the past with the kids and we're thrilled to share what we learned with you! It's fascinating (and tragic) to me that Africa is the largest of all the inhabited continents and yet it is largely overlooked in history programs for kids.
In fact, I use the "What Your ____th Grader Needs to Know" series with our children and there is no mention of African history outside of Egypt until fourth grade. This means that kids are first introduced to Sub-Saharan African history with a discussion of the Trans-Atlantic Slave Trade.
I feel that initially presenting Africa in the light of slavery tends to bias children to the beauty and historical significance of African rulers and people. We've decided not to cover the subject in that way with our children and we've found out some incredible things so far.
For starters, Africa is so much more than poverty, oppression, and slavery. In fact, these things were fairly uncommon until colonialism started. So before we got into our lesson about African Kingdoms with the kids, we decided to learn more about the African continent – as it is today.
Take a look at this Introduction to Africa lesson plan you can share with your kids too! And if you want to learn even more about Africa with your children, don't miss our African Kingdoms printable unit study!
Introduction to Africa Lesson Plan for Kids
Let's begin by tackling some common misconceptions about Africa.
The original name of Africa is not "Africa"!
First, did you know that Africa was not originally called Africa? That name was based on the name "Afri", which was a Latin name given to the inhabitants of Carthage by the Romans in the second century B.C.E.
In fact, the Roman general Publius Cornelius Scipio was renamed Scipio Africanus after his victory against Hannibal at Carthage at the end of the century, because the name "Africa" was only used to denote the area surrounding the indigenous people who lived in and around Carthage at the time.
Somehow over the centuries, the name Africa was expanded to refer to the entire continent, but that was not the name that the inhabitants of Africa used. There is some disagreement about what the original name for Africa was, but some say that the original name was "Al-kebulan", which is an Arabic name meaning "Land of the Blacks".
How big is Africa?
After finding out that the name of Africa wasn't even originally Africa, we had to re-examine our entire view of the area. We decided to sift through popular images of Africa and compare them to the reality of life on the largest continent on Earth.
The free resource "Exploring Africa" by Michigan State University is an excellent introduction to African culture, history, and geography. We started with the beginning exercises about the size of Africa and the common portrayals of Africa in popular culture.
We also found an incredible graphic showing the enormous size of the African continent: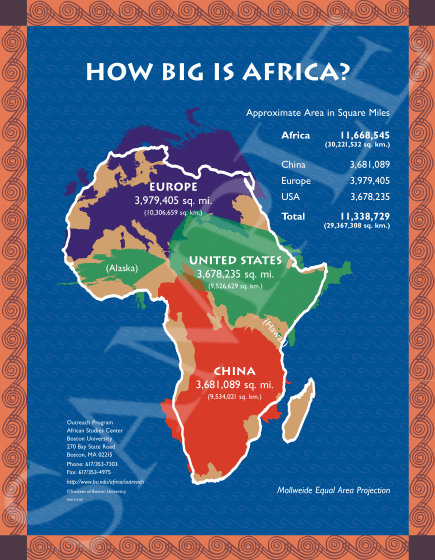 Image credit: Boston University
Africa is a Culturally Rich, Civilized Continent
What kind of landscape comes to mind when you hear the name "Africa"? Do you think of people who live in huts? Do you picture extreme poverty and dirty surroundings? Those are the images commonly used in the media. And Africa does have poor people and slums. (Like literally every other continent, except Antarctica.)
I live in the U.S. and if I wanted to show the U.S. as a country of poor, impoverished people, I'd have no trouble finding photographs to support that story. We see homeless people in our area on a regular basis. So it's unfair to paint this as a situation that's unique to the African continent.
African countries have huge cities, beautiful buildings, and incredibly rich historical sites.
Antananarivo, Madagascar
Cape Town, South Africa
Kampala, Uganda
Marrakesh, Morocco
Nairobi, Kenya
Windhoek, Namibia
The People of Africa
The Exploring Africa lesson plan makes an excellent point that I had not previously realized. Most of the images of Africa in modern culture are either of animals, nature, or buildings. The people of Africa are not widely highlighted, unless they are shown looking malnourished or unhappy.
When I thought back to my childhood, I realized that this was definitely true when I was growing up. Of course, it's important to publicize the extreme poverty that ravages much of Africa, but those images are not representative of life for all Africans. Seeing those pictures over and over can make us feel that life in Africa is miserable for everyone, which is not true.
Here are some of the images of Africans we shared with our kids:
Young Men in Ethiopia
Image c/o:
Katie Hunt
Mother and Children in Angola
Young Maasai Women
Image c/o:
DFID – UK Department for International Development
Ugandan couple
Best Friends
 The Natural Wonders of Africa
We also discussed the incredible diversity of geography on the African continent. Utah State University hosts a very thorough resource list of Africa lesson plans and we explored one to learn about the Seven Natural Wonders of Africa.
Here are a few of these natural wonders:
Victoria Falls
Table Mountain
Image c/o:
Julien Carnot
The Serengeti Plains
Image c/o:
Harvey Barrison
Books and Resources about Africa
Here are some of the resources we used for this lesson. They're definitely worth a look. (Affiliate links are listed below. For details, see our Disclosure Policy.)
Learn even more about Africa with these learning activities!
Ready to dive into the royal history of Africa? Don't miss our African Kingdoms unit study! It's packed with unit activities to help elementary kids learn about the rich and regal history of African kingdoms!
Get exclusive learning ideas and printables in your inbox when you sign up for our email newsletter!
This post is part of the Autumn 2013 Hopscotch from the women of iHomeschool Network! Click below to see the Hopscotch posts from all of our fellow bloggers!