Note: I received a free copy of this product in exchange for this review. See our Disclosure Policy for details.
Our kids, like just about all kids, love LEGO blocks. Love them. But I never had the idea to combine LEGO building with writing. Renee Brown from Great Peace Academy did, though, and she's put together some adorable LEGO writing prompts printable packs for just $1 each! We got the chance to try them out with the kids and they had so much fun building and writing their own stories!
Well, okay, Pooh and Roo didn't exactly write their stories. But they did invent them and narrate them to me, so that's good. 🙂
After some due deliberation, the kids started creating their stories. Pooh's picture showed a LEGO figure on a project that looked kind of like an airplane. Here's his story:
James is flying an airplane on a solo trip. He's going to the airport and he's coming from where he lives in Georgia. He had a good time. He works at the airport.
He's a big fan of James from Thomas & Friends, so any male figure in his story is always named James. 😉
Roo's picture showed a LEGO figure on a vehicle that had a steering wheel but no wheels. Here's his story:
He's at the park sliding. He is driving a car that doesn't need wheels. He drives his sliding car around the park on the grass.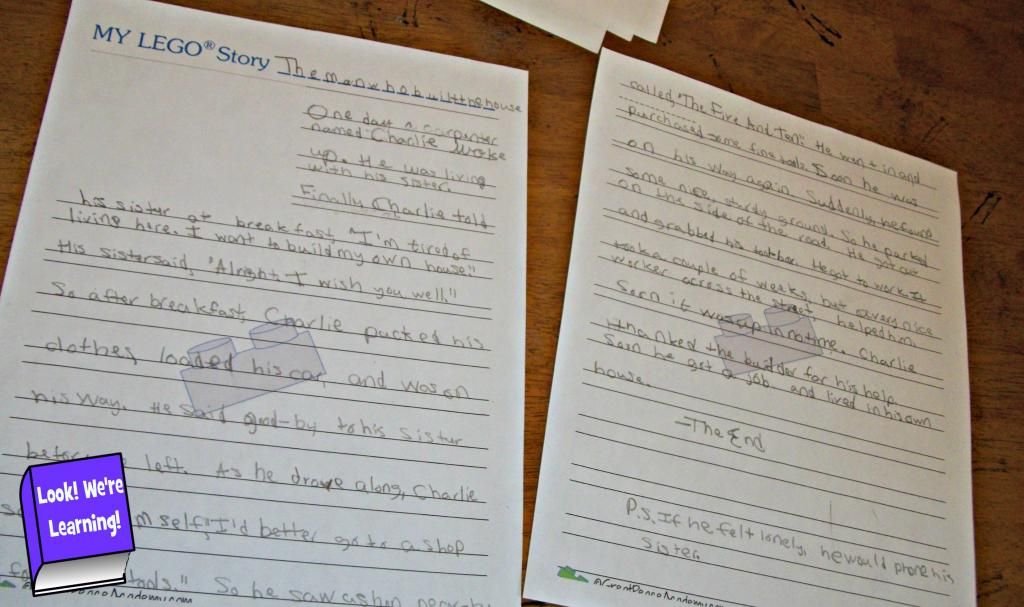 For Tigger, I used one of the blank Lego writing prompts that allows kids to make their own creation and write a story to go along with it. Here's Tigger's story:
"The Man Who Built the House"
One day a carpenter named Charlie woke up. He was living with his sister. Finally, Charlie told his sister at breakfast, "I'm tired of living here. I want to build my own house." His sister said, "Alright, I wish you well." So after breakfast, Charlie packed his clothes, loaded his car, and was on his way. He said good-by to his sister before he left.
As he drove along, Charlie said to himself, "I'd better go to a shop for some tools." So he saw a shop nearby called "The Five and Ten." He went in and purchased some fine tools. Soon he was on his way again.
Suddenly, he found some nice, sturdy ground. So he parked on the side of the road. He got out and grabbed his toolbox. He got to work. It took a couple of weeks, but a very nice worker across the street helped him. Soon it was up in no time. Charlie thanked the builder for his help. Soon he got a job and lived in his own house.
The End
P.S. If he felt lonely, he would phone his sister.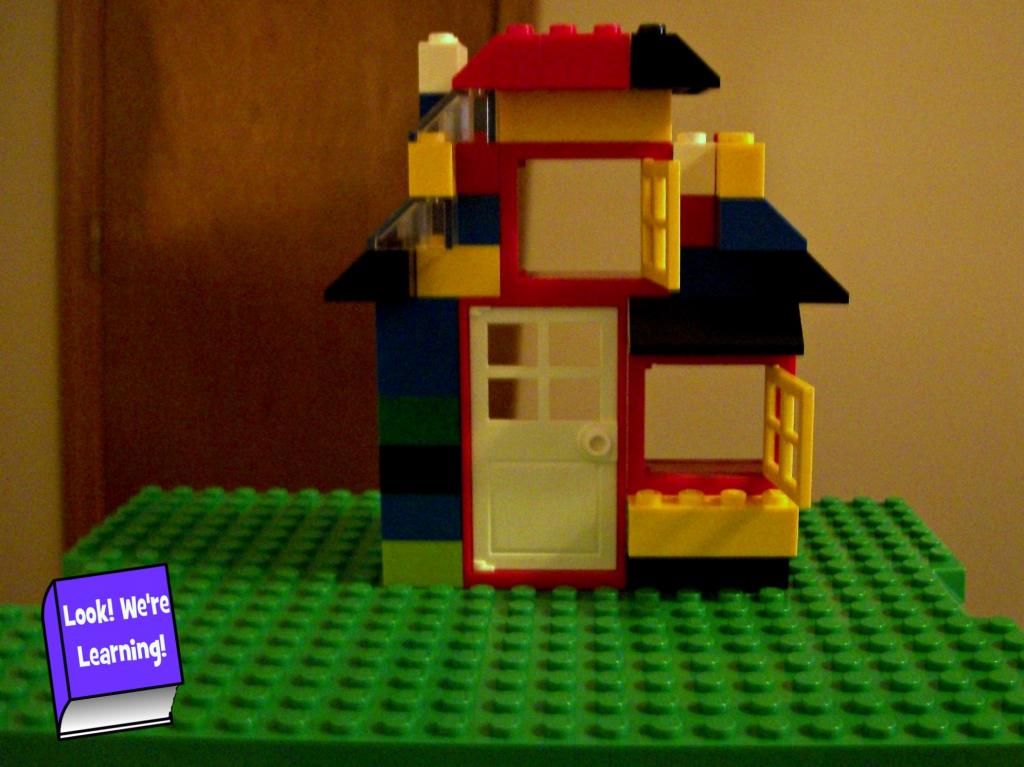 And there's her LEGO creation! The house that Charlie built. 🙂
We loved creating with Renee's LEGO Printables! If you'd like to get some for yourself, visit Great Peace Academy to pick them up for just a dollar each!